Can't decide between mountain biking or backpacking for this weekend?  How about both!
We left Atlanta at 9 pm on Friday… and car camped on Blue Ridge Parkway.  The view was stunning the next day. We always packed our food, mostly what we wanted to eat for breakfast on the next day, before heading up to BRPW.  Therefore, we could enjoy our view with our food and good coffee in the morning.  No rushing… just enjoying our time there. Then it was a time to do some rides.  We headed to Cove Creek Loop Trail.
DAY 1
Cove Creek Loop Trail Ride
Distance 10.1 mi,  Elevation 1,155 ft, Moving Time: 1:36, Calories: 476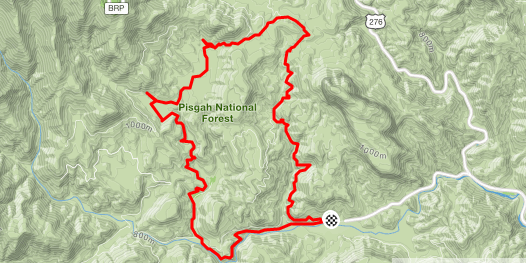 More information of our ride is here. https://www.strava.com/activities/1209057713 And if you want, you can follow Trent's Strava too! (I still have to join it myself.)
I really enjoyed the trail. For me it didn't feel like it was 10 miles, I felt it was shorter.  It is definitely less technical than many other trails in Pisgah. There are creeks and water falls everywhere, which is good for dogs to keep them stay cool.
After that, yes! It was time for lunch. We headed to The Hub and Pisgah Tavern. This place is a dream-come-true for all bikers. You can get your bike tuned up, rent a mountain bike, shop for new gears… AND DRINK GOOD BEER THERE!  They also have good food trucks that rotate each day. Today we had Vitamin-T food truck. I loved their food. They are tacos. (Vitamin T, got it?)  And they offer "no-meat" options on the menu for me too. Sweet potato tacos rock! Since you're already there in the city, you might want to store up your food here. There are a lot of grocery stores in the area; Food Lion, Walmart, Ingles. And if you are more into organic produce like us, you can shop at Food Matter Market & Cafe. It is only 2 miles away from the Hub.
Then we headed back up to BRPW to meet up with our friends to do some backpacking at Graveyard Fields.  We got changed and got our packs ready up there. No time for showers again. But that was not a problem. The weather was so perfect, nice and cool, and all the trees up there were already changing colors. Very pretty. (I don't mind being stinky for all these.)  Make sure that you pack your food in a bear canister. There were a lot of bear sightings and encounters in the area recently.
NOTES: Thanks to one of our youtube friends. We found out that a camping closure in the near by Graveyard Fields area was still in effect, though the area remained open for day use. We feel pretty sorry about that.  Here is some good resource for you and for us to check on before you want to visit/camp at any national forests in NC. goo.gl/oy957a
DAY 2

Waking up to this gorgeous scenery, (Trent) making good coffee, I was in heaven. We were having our breakfast there before heading back to the parking lot area.  Said bye to our friends, we headed to South Mills River Trail. 
South Mills River Trail.
Distance 12.6 mi,  Elevation 1,496 ft, Moving Time: 2:02, Calories: 624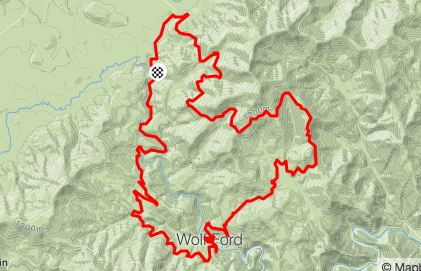 https://www.strava.com/activities/1211151026
There were a lot of free camp sites at the trailhead. More than that, I got an ok phone service here too. (I always have to think about that now because I have to be on-call on some weekends.) Next time, we might just camp here and go for a morning ride.
Oh yeah… This trail is so much more technical than Cove Creek Loop Trail.  There were a lot of sections that I had to push my bike. (No shame.)  It has all kind of terrains; rocky, rooty (Is this a word?), sandy, and some were really narrow.  There are also a lot of sections you can enjoy fun and smooth rides.  More than that, it is good for dogs too!  Tsali (our dog) got to swim in the river at the trailhead before the ride and also after. He had a good bath before heading back home. Just not us. We finished at the trail around 3 pm and started to head back to Atlanta.  We stopped to grab a bite at a Mexican restaurant in Franklin, GA and still made very good time back home. We got home around 8 pm. Shower felt awesome at home!
Please feel free to leave us a comment or let us know if you have any question about our trip. We'd love to hear from you!
Want to get free images from our trip?
Yes, all images are high quality, and completely royalty free. You can use for your blog, websites, apps, or even for commercial uses. We got 9 images from this trip to give away.
http://www.wildnectar.photography/Trailnado/20170929/
Download password for the free images from this Vlog is trailnadofirstvlog.