On our day 2, Trent did the Yeti Tribe ride in the morning. It was a total of 23.5 mile loop fun!
Saturday August 3, 2019
We had breakfast at 7.30 am. If you know me (Nan), you may have known by now that I'm not a morning person. But Trent is. He was really motivated to ride with Yeti Tribe in the morning of that day. Me? I preferred to sleep in as usual. While he was gone, I filled up water in our black bear canister and sat it in the sun for after ride shower from him
Trent started to get ready around 9 am and started to ride to meet with the rest of Yeti Tribe on the top of Telluride Gondola.
Yeti Tribe Gathering Main Ride – Telluride Gondola Loop
This is a total of 23.5 mile loop. More information of this loop can be found here. https://www.mtbproject.com/trail/7047854/yeti-tribe-gathering-main-ride-telluride-gondola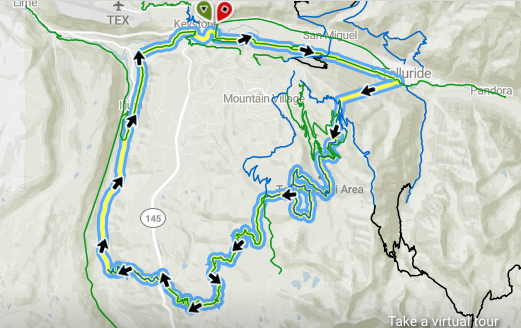 He took Valley Floor trail, San Miguel River trail, then Telluride Gondola to meet the rest of the tribe there.
The 3 main trails:
From the top of the gondola, you will be doing 3 main trails from there: Prospect Trail, Magic Meadows Trail, and Sunshine Trail. As usual, the view was stunning. You will see the change of the scenery from alpine scenery, to some thick wood, then to many big open fields at the end.
After the ride, Trent got back to our campsite. We hung out with our friends, had lunch, then more drinks. Trent got a chance to take our hippy shower in the rain. Then we joined the rest of the tribe for dinner.
Dinner
The dinner was great. They served really good BBQ, Salad, and more beer. After the dinner, we all had a great time playing Yeti Tribe traditional games.
For some reason, the night was ended with us doing a keg stand and us being silly dancing on a dance floor!