Want to go out for a good easy mountain bike ride? Check out these easy trails at Carvins Cove!
Continued from Dec 28, 2017 – A Day Hike to McAfee Knob in Roanoke, VA
Friday (Dec 29, 2017) – Green/Easy Trails at Carvins Cove Trail System | Roanoke, VA
We camped at the AT trailhead (37.424638, -79.757284) the night before. It was a very cold night. All of us slept in our car.  As usual, we had our breakfast at the camp fire. Trent still had a lot of energy and he still wanted to ride. Me? I think the cold had taken its toll on me. I was very tired and didn't feel like doing anything.
We got back on the rode around 10 am and headed to Carvins Cove.
Carvins Cove Green / Easy Trails | Roanoke, VA
Distance 14.02 mi,  Elevation 968 ft, Moving Time: 1:42:41, Energy Output: 461, Elapsed Time: 2:05:59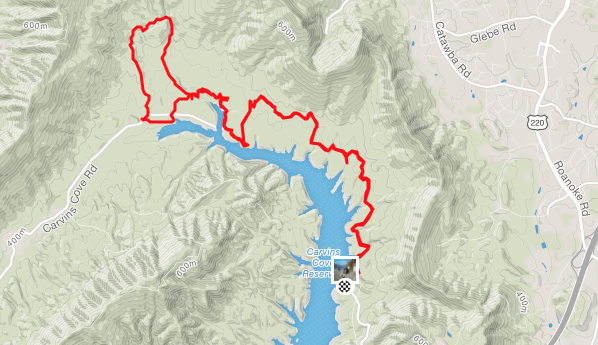 More information of this ride is here. https://www.strava.com/activities/1332037257 And if you want, you can follow Trent's Strava too!
This time, instead of starting at Bennett Springs Parking Lot we did 2 days ago, we went to start at the boat dock parking lot (on the map below). If you want to ride here, it is $3 per person. There are nice restrooms at the parking area. 

Trent and Tsali went on the trail around 11.30 am. I didn't go with them this time so that I could take some rest and sleep in the car. It was their first time on the trails there. They went on Happy Valley, Schoolhouse, Little Bell, Enchanted Forest, and Arrowhead trails. Arrowhead trail is the most difficult trail to all of the ones we rode on that day. And Enchanted Forest trail is as beautiful as its name. 
After the ride, Trent and I agreed that we needed another good and relax night. So we're headed to Holiday Inn Express in Salem, Virginia, where we stayed 2 nights before.
Dinner at (Thai Restaurant) City Corner 2 in Roanoke, Virginia
Trent let me choose the restaurant to go for dinner. Of course, I will always pick Thai foods over anything. We went to City Corner 2 in Roanoke, Virginia. The food here is excellent and cheap!  We (or actually I) ordered a lot. There is only one thing that I will not recommend anyone to order. Don't order papaya salad. I felt like I was eating syrup. The salad dressing was way too sweet and I could see sugar grains in there that were not dissolved. However, other dishes are super! Just don't order papaya salad.
(Food Pictures from the top to bottom: Papaya Salad, Mushroom Tom Yum Soup, Red Curry with Chicken, Jungle Soup (Kang – Pa) / Vegetable Curry Soup without coconut milk)
Continued Christmas Trip – Dec 30 in Pisgah Forest
We hope you find this article helpful. Please feel free to let us know if you have any comment or suggestion. We'd love to hear from  you!